SASGOG is excited to congratulate the following ten Resident Reporters who will attend the SASGOG Annual Meeting and ACOG Scientific Session in Nashville, TN taking place on May 2nd.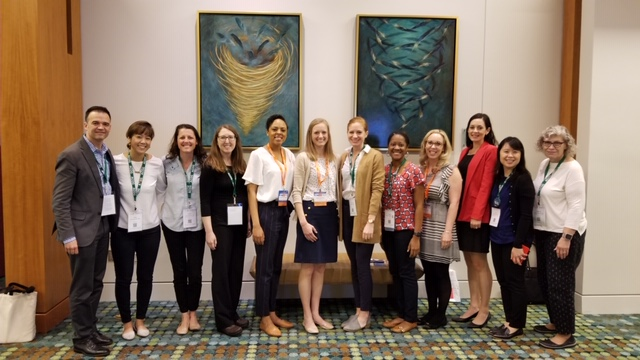 Emma Balfanz, MD
Indiana University School of Medicine

Emma grew up in central Minnesota as one of four children in the Balfanz household. She attended St. Olaf College in Northfield, MN, where she majored in both Biology and Religion. Following her undergraduate studies, Emma spent a year teaching math to 4th and 5th graders as part of an AmeriCorps program. She then completed medical school at the University of Minnesota, where she was active member of Medical Students for Choice, furthering her passion for women's health and reproductive rights. She now resides in Indianapolis, IN, after couples matching with her husband to Indiana University for residency. When she's not working or sleeping, Emma enjoys running, and throwing the frisbee to her 2-year-old retriever, Enzo.






Lauren Bouchard, MD
Universtiy Hospitals Cleveland Medical Center

Lauren Bouchard is a third year Obstetrics and Gynecology resident at University Hospitals Cleveland Medical Center. She received her undergraduate degree from Andrews University and her medical degree from Washington University School of Medicine in St. Louis. She proudly serves as the Education Chief resident for her residency program. Her professional interests include medical education, decreasing healthcare disparities and global health.


Leanne Free, MD
Brown University/Women & Infants Hospital of Rhode Island

Leanne Free is a third-year OB/GYN resident at Brown University/Women & Infants Hospital of Rhode Island. She is originally from Los Angeles, California, but has making her way across the country over the last 10 years as she attended college at Southern Methodist University in Dallas, Texas and medical school at Louisiana State University in New Orleans, Louisiana. Her medical interests include family planning, patient advocacy, and medical education. She is a recipient of the CREOG Empower Award and has been elected as incoming Academic Chief Resident. When she is not working, she enjoys Orangetheory fitness, stand-up comedy, and reading.


Lauren Knowlson, MD
Mountain Area Health Education Center

Dr. Lauren Knowlson is currently completing her 4th year of Ob/Gyn Residency at the Mountain Area Health Education Center in Asheville, NC. She received her medical degree from the University of North Carolina at Chapel Hill where she also attend undergrad. She was born and raised in North Carolina and plans on continuing to practice as an academic generalist in her home state after graduation – she will be staying on as faculty at her residency program. During her residency career, she has developed an interest in resident education and research surrounding resident education. Her research interests also include health disparities in gyn surgery. She is also interested in resident advocacy and helped develop an advocacy curriculum for her residency program. Outside of work, Lauren enjoys trail running and hiking in the beautiful Blue Ridge mountains with her family and dog.


 


Caroline Kuhn, MD
University of Chicago

Carrie Kuhn is a current third year resident at the University of Chicago and the Administrative Chief Resident for 2019-2020. Originally from Colorado, she went to Stanford University for undergrad before moving to Chicago for medical school. She aspires to be an academic generalist and looks forward to combining her interests in medical education, reducing the primary cesarean delivery rate, and healthcare disparities.

 


Eva Luo, MD
Beth Israel Deaconess Medical Center

Eva M. Luo is a Chief Resident of Obstetrics and Gynecology at Beth Israel Deaconess Medical Center in Boston. She is creative problem solver passionate about improving the entire spectrum of women's health. Her primary area of focus is on pregnancy care redesign and understanding how innovative models of care that arise from the entrepreneurship space  can impact overall policy and systems of care. Eva is a graduate of University of Michigan Medical School and Harvard Business School where she received her MD and MBA degrees. Her leadership and academic work in health systems are highlighted by working as Special Assistant to Dr. Donald Berwick, then CEO of the Institute for Healthcare Improvement, spending time in Ghana researching the impact of obstetricians on the management of rural district hospitals as a William Davidson Institute Global Impact Fellow, research projects looking at Time-Driven Activity Based Costing at Partners in Health, and leading efforts behind "Project Joy: Redesigning the Pregnancy Experience"–an initiative to use human centered design to improve health care.

 





Kathleen Montanez, MD
Naval Medical Center San Diego

I am a fourth year resident in obstetrics and gynecology at Naval Medical Center San Diego. I was born and raised in upstate New York including completion of a unique joint acceptance program with Siena College and Albany Medical College which places an emphasis on humanities, ethics, and social service. While at Albany Med, I accepted a health professions scholarship from the United States Navy and was commissioned. After graduation, my husband and I moved to San Diego we are thoroughly enjoying our time sampling a wide range of craft beers, staying active outdoors and soaking up the abundant sunshine. I am thankful for the opportunity to serve our country and to serve my patients as a generalist starting in July at Naval Hospital Guam. 

 


Rachel O'Connell, MD
University of Rochester

Rachel is a PGY-3 at the University of Rochester in Rochester, NY.   She completed her medical education at The University of North Carolina and Chapel Hill and her undergraduate degree in Biomedical Engineering at the University of Rochester.  Prior to medical school, Rachel participated in translational biomedical research with optical coherence tomography at the Duke Eye Center.  In residency, Rachel has had the opportunity to collaborate with a team of engineers to apply optical coherence tomography to the field of gynecology.  Her preliminary work applies Gabor domain optical coherence tomography to obtain near-histologic resolution images of the cervical epithelium to aid in the diagnosis of cervical dysplasia.  Rachel also mentors a team of biomedical engineering undergraduates working on a design project to translate optical coherence microscopy for use in vivo at the time of colposcopy.   Rachel will serve as an administrative chief resident in her program next year.  She is looking forward to an exiting and rewarding career as an academic generalist, where she hopes to participate in resident and medical student education and translational biomedical research.

Porshia Underwood, MD
University of Colorado School of Medicine

Porshia is from Asheville, North Carolina. She completed her undergraduate education at The University of North Carolina at Chapel Hill and subsequently attended medical school at The Brody School of Medicine at East Carolina University. She then moved west and is currently a third year resident at the University of Colorado. Her current interests including transition of care in the postpartum period. When she is not working, she enjoys spending time hiking in the Rocky Mountains, running half marathons and spending time with her dog, Charli.





Emily Wang, MD
Morehouse School of Medicine

Hailing from the Land of 10,000 Lakes, Dr. Emily Wang received a B.A. in Physiology and then a Masters in Public Health in both Epidemiology and Maternal and Child Health at the University of Minnesota. It was there that she realized she wanted to pursue clinical medicine with the goal of improving the health of women on a population and an individual level. She subsequently applied to and was accepted into the University of Minnesota Medical School medical school and now is currently in finishing her last year of Obstetrics and Gynecology residency at Morehouse School of Medicine. She plans on pursuing a career in academic medicine, combining clinical practice and research, after residency.